Special products
We offer a variety of products for the domestic and international market!
Our fleet
The Rozafa ship, the admiral of our fishing fleet with Turkish and Albanian crew from 30 to 36 people. The entire brain of the floating vehicle is a sophisticated Japanese-made sonar system that costs over 2 million euros. Gjergj Luca, the owner of the ship, says that the sonar can detect fish herds of up to 10 miles, shows everything and nothing is left to chance for laying nets. The work has an extraordinary coordination and precision. The fish are loaded from the sea to the ship via a pumping system.
Read more...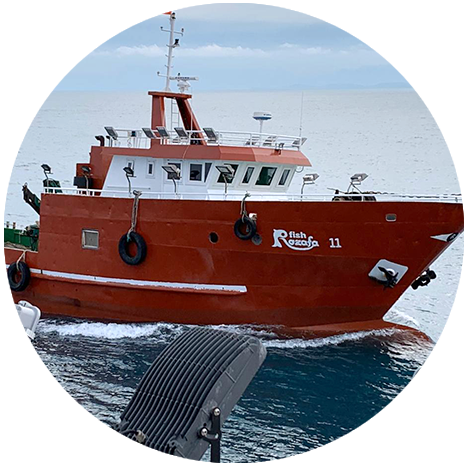 Vessels
"Fish comes every day from Shengjin. There are 14 boats working to catch seafood. They are then collected in the central warehouse of the "9 floors", and distributed to all other Rozafa points. If, after supplying Rozafa points, the fish still remains, we sell it to other shops or restaurants. The distribution of the product and its circulation guarantees us freshness and quality preservation".
The fact that Rozafa survives strongly shows that her foundations are strong. The name has been preserved, and the quality has been praised and certified as "Best Sea Food". It is no different than just bringing fish to your restaurant, kitchen, or home. She is a pioneer in several fields.
Read more...